Refinished - re-painted - re-purposed: furniture, home decor. Mirrors using recycled material and Fused glass jewelry.
Monday, November 28, 2011
Wednesday, November 9, 2011
Guess what guys I am going to get to see the Pawn Star Guys this weekend with my auction owner friends in Anderson, Indiana! I am so excited! I will post pictures when I get back. But of course that means that I won't get to work on any of my projects this weekend:(, but there will be time for that later. Can't miss this opportunity!
I finally have some pictures to share from my time with the Pawn Stars. I didn't get a good picture with the guys. There was one that was taken with Rick, but my friend, Kim, was shaking so much, or laughing, I am not sure which it was, but that darn picture was so blurry, you can barely tell who it is. Grrrrrr. But I do have proof that I was there.
We had a blast that weekend, It was good to get out of HO HO Land! Remind me the next time I go out of town to NOT go to a casino. I was not very lucky! This is what I left the Casino with:
Actually I had one cashout voucher for .02 cents, but I needed that one, and had to cash it in earlier, so I guess, I was .23 cents ahead.
This is the Group of Diva's that accompanied me on our Pawn Star Stalking Tour
Nova, Shelley, Me, Kim
Sunday, November 6, 2011
I was so inspired by Miss Mustard Seed's Stripped Dresser! I knew if I could find one similar it would look perfect in my house. That very week my friend that owns the Indiana Realty Auction house, had a dresser that would be perfect for this make over. I got a great deal on it too. It was missing one handle, so i filled the holes for the top two drawer pulls and drilled a hole in the middle of each one. I used the parts of the handle that were still on the dresser and just pulled a ribbon through for now. But now I kinda like it!
Of course this is the before. There is a mirror laying on top of the Dresser. I bought that at the auction too!! I did do some light sanding all over the piece before I taped it off. I also had to fill in some places where the veneer had peeled off. "My Biggest Fan" also made me a little wooden piece that was missing.
After it is taped off and two coats of paint.
After the tape was pulled off. I gave it a light distressing with the hand sander, and went over it with a dark stain, some furniture wax and this is what it looked like! I am so in LOVE with it! It is perfect in that spot! What do you think?
Thanks for looking, Kathy
Your comments make me ;)
I've joined these linking parties - please check them out!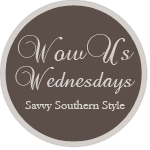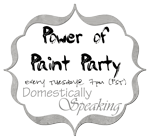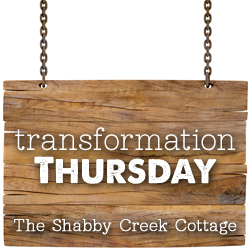 "/>