A Sneak Peek
This bed took about a year in the making, but I had a lot of help from other sources and "my biggest fan"! I saw a similar bed on the web and I decided this was"my style" and I had to have it. After much discussion with "my biggest fan" about how we could make this, we decided that that we would make the bedposts in out of wood not the small round metal posts in the original picture that I saw. "My biggest fan" had a friend here in town that did metal work, so we showed him the picture of our design to see if he could possibly do this, he said that he thought he could and to let him know when we were ready for him to start. After much more discussion about the bed posts, shopping for the right size and height of the posts that we wanted, we were not able to find what we wanted in any hardware store in the vicinity. So the project got put on the shelf again for several months. One day a regular customers at my Hair Salon came in, and guess what he has a wood milling business! So I asked him if he could make the post to our size specifications. He said that he probably could, as soon as I got home I told "my biggest fan" and he
finally
went out to milling business and got the ball rolling! Yeah! When we received the posts they sat in the garage a while longer. Finally, I got "my biggest fan" to make another visit to the metal working guy. His name is Kenny Jones, and he is an amazing artist, fabrication guy. He had the same vision as we did. We got the steel ordered and he sent us pictures as his work progress, we made several trips to his shop to make sure we approved of what he was doing, the dimensions, the design, etc. Let me just say, that we had one of the hottest summers on record, and making all the scrolls out of the steel took a lot of strength, determination, and sweat! I think he had to get a couple of friends to help while making the scrolls, they were all bent by hand, and a torch I think. Several times the guys discussed powder coating the whole thing. I really didn't know what that was, I had pictured in my mind this black shiny stuff. It took some more
arguing
discussion over that one. I had envisioned this raw steel look, that I thought would look great. After showing me all the colors that the powder coating came in, I agreed to a rusty burnt orange color, I still wasn't sold on it, until I saw it finished! "My biggest fan" worked diligently on his days off work to cut, sand, and varnish the posts. He did a wonderful job, they are smooth as glass. He also was the brains behind how it would all fit together, and BTW he did an amazing job on that too. When it was finally time to put it all together, it fit perfectly, not even one hitch! Originally I had Kenny make some finials for the bed posts that were different from what you see in the pictures. I know he worked really hard on those finials, bending that steel in the little curly claws, but I just couldn't come up with a plan for the "something" I was going to make to put in them, be it ceramic balls, or glass, glass mosaic balls, I just couldn't see it. One day my friend Kim at the Auction House gave me a whole box of these large balls, not sure what they were made of, they were not wood, or ceramic, plaster of paris, maybe, I don't know, they had "made in Indonesia" or something like that on them. She said "here, maybe you can do something with these, I don't know what the He$$ they are". So then my brain got to working. "my biggest fan" drilled some holes in them, and I paired them with a smaller wooden ball and a little round spacer thingy, mixed some paint to match the power coat, and I had myself some finials! "My biggest fan" said they looked like brown snowmen! How dare he! I liked them and that was my physical contribution to the project other than the idea, of course. I also made the flower pillows on the bed, picked out the curtains, painted the walls and the crown molding. This is one half of the room, not too sure about the other side of the room, still
thinking
working on that. So here it is, see if you like it.
Little Brown Snowmen
Romantic Lighting
Dalila design Curtains
Curtains from JC Penney
My "Tuffet" at my Vanity


Funky Feet on my "Tuffet"


My "Tuffet" was one of those old round ottoman's covered in white Naugahyde (you know you seen them, Ugg) I covered it with the same fabric as the big pillows on the bed, then I added the feet underneath to make it a little taller. If you have ever toren one of the ottomans apart, all they are is some type of straw like fiber, i am not sure if there is anything solid in the whole thing, so I had to make a base for the feet, and that is a another story.......
Wrought Iron bed fabrication: Kenny Jones, Elite Fabrication in Santa Claus, IN
Wood Posts milled by Tim Waninger: American Woodland Enterprises, Dale, IN
Powder Coating by :
The brains behind the logistics of putting it all together, and finishing the posts, "my biggest fan": Mike Fazio
Brown Snowman maker, Design and most importantly Main Motivator: Me!
How do you like the Bedroom so far?
Thanks for looking, Your comments make me smile ;)
Kathy
Partying at: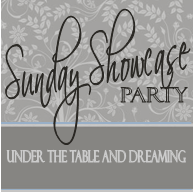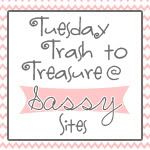 DIY WROUGHT IRON BED WAS FEATURED !!!!!!